Getting lasered – all part of the job!
The Letchworth Clinic Video Shoot
Great to meet Graeme Riddle and the team at the Letchworth Clinic today!   We were made really welcome and got to know more about the range of services that are provided by the Clinic.  This is a report on the big day: The Letchworth Clinic Video Shoot!
Laser Close up
We take our video productions seriously so that meant getting the know the laser close up! The Clinic was busy even though it was a rainy day in Hertfordshire.   Graeme, Lead Podiatrist at the Clinic, has a great down to earth attitude – so if you are in Letchworth come and say hello!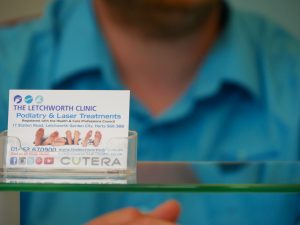 Lasering at The Letchworth Clinic